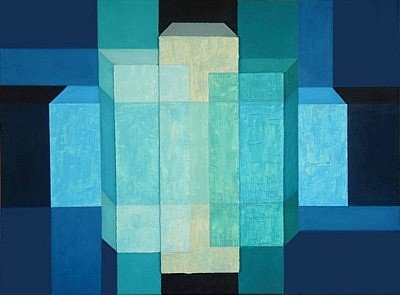 CHORD IN A FLAT MAJOR 7
THEME: LISTEN TO THE MUSIC, ENJOY ITS COLOURS (CHORDS).

TECHNIQUE: Mixed technique on canvas. SIGNED: 2 / 4 / 2008 DIMENSIONS: Canvas 81x60 cm.

- 250€ Disponible -

Peintres
Pujals Lluis
LLUÍS PUJALS CARRETERO

Born in Berga (Barcelona) the 22nd of January, 1966, and settled in Blanes since 1988, Lluís began to study music theory when he was 8 years old with Monserrat Perayre and clarinet with Ramón Sobrevies. When he was 16 he began his studies of the saxophone with Francesc Elias in the Superior Conservatory of Music of Barcelona. He studied oboe in the Conservatory on Music of Terrassa with Francesc Castillo, and harmony, arrangements and improvisation in the Aula of Music of Barcelona with Antonio Peral. He also studied harmony, choral singing, history and aesthetics of music, music forms, history of art, chamber music, accompaniment and acoustics in the Isaac Albéniz Conservatory on Music in Girona, obtaining the prize of honour in the 2nd course of chamber music.
He works as saxophone teacher in the music school L´Espill in Berga and in the Santa María school in Blanes.
He forms part of different groups and ensembles (Mercado Negro, Arcabuk, Combo Roda of Saxs, Background of Saxs), big-bands (Big-Band of the Aula of Music of Barcelona, Impuls Big-band), and has performed with chamber orchestras (Orchestra of the Cámara Catalana, Orchestra of the Cámara de Moldavia etc.), with Lluís Llach and different recordings as soloist on the oboe and saxophone. He participated as musician-actor in the musical work "Cabaret" directed by Jerôme Savary, first shown on the 4th of July 1992, in Barcelona.
Lluís Pujals began to paint when he was 8 years old, he has combined music with painting since he was a child. The first notions of painting were given to him by a painter from Berga (Angelina Capellera). When he was twelve he took part in a collective exhibition of painters from Berga. Due to his exclusive dedication to music he has continued studying Fine Arts on his own accord, knowing and practising the different styles and pictorial techniques, the concepts and tendencies of art.