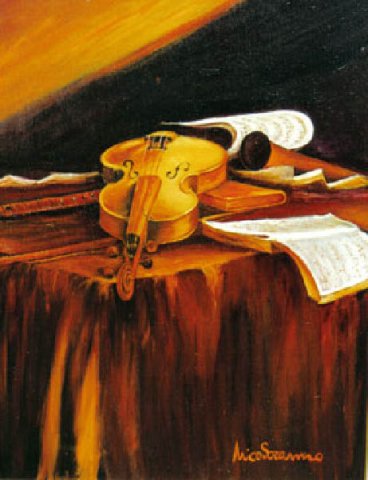 Caravaggio's homage 2
Mucicals intruments

60x70, oil on canvas, year 2000

Peintres
Nico Soranno
I born in Bitetto (BA), Italy in 1941 , after my 3 years army period as electronic specialist as sergent degree I left army and worked in the naval industries for approximately 35 years as electtrotecnic. In the last 15 years, on building submarines Sauro class. I carved out a career as quality control.
I studied Art Design as autodidact. Art became important to me again 10 years ago whilst visiting museum and galleries. All the artwork displayed here and on my website has been produced within the last 10 years. I work in a variety of medium and tecnics including digital (Photoshop, FLASH) oil on canvas, murales paint, sculptures, art trainer. Following the Roger Bacon's philosophy such " On the Ligth's metaphora" as knowledge of the world and the umanity's sense, I create so as I can do my art works that you can see on my site. Criticism and observer give me a statement as artist, I don't really have, Ielaborate art as and when I feel I need to. My work is primarily created for my benefit, but, if others enjoy it….it is both a bonus and a compliment.