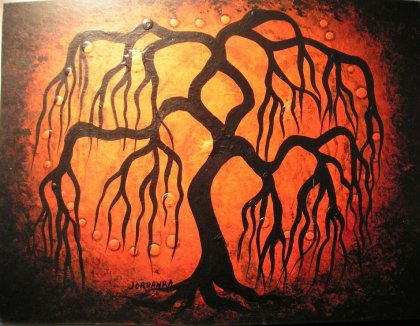 Red willow tree
My art is available on Cross Stitch Designs by

www.tghcrossstitch.com/Jordanka%20Yaretz.html
For unique gifts and merchandise of my art - t-shirts, mugs, tote bags, cards, magnets, buttons and more check out my new shops
www.zazzle.com/jordanka

9"x12" acrylic on mat board

- 25.00€ Disponible -

Peintres
Jordanka Yaretz
Jordanka paints vibrant acrylic paintings that rediate exuberance, fun and motion.Fresh and invigorating new ways of seeing the world finds expression in her creations.Great energy, dynamic colorful conversation pieces that grace the walls of many private and corporate collections around the world. Her earliest inspirations came through childhood visits to the art galleries of her home land where she loved the paintings of Bulgarian masters. Jordanka is known internationaly for her vibrant use of color and her contemporary approach to naive art. Her signature themes are characterized by purity , innocense and the jovial simplicity of childhood. Some of her snow scenes have been reproduced into Christmas cards for UNICEF and the Leukemia Research Fund of B.C. Canada. Jordanka has been featured in numerous local publications and TV shows. Some of Jordanka's new works are dynamic abstract expressionist images.

Please visit www.annaleahdesigns.etsy.com for pendants created from Jordanka's paintings.
Her art is also available on Cross Stitch designs by
www.tgh.crossstitch.com


If you have any questions, please e-mail me.Thank you for supporting self representing artists.