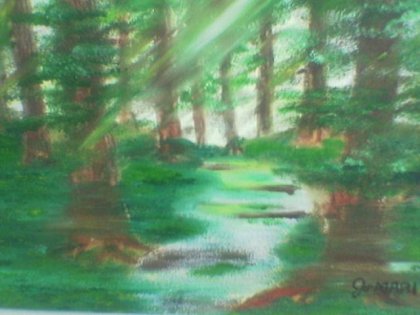 Pinetree III
Oil painting on canvas

Dimension:14x18inches Year:2004

Peintres
Jo Mari Montesa
4 Summer Drive Congressional Village
1100 Quezon City - Philippines
Central Luzon
+639172024658
cooljomari@yahoo.com
Site web
Since his boyhood he joined many art contests in different mediums. He has informal trainings in Painting, Technical Drawing and Photography. Also, a student and a believer of Humanities.
Jo Mari is also into Photography. He joined competitions both local and international. Some of his Photographic works are now in the hands of private collectors.
Right now the artist is concentrated in painting. Specifically Oil painting on canvas. He hopes that he will be known for this medium.
Most of his paintings are influenced by the rich culture and tradition in the Philippines. For example his series of Immaculate Concepcion oil paintings are inspired by the dark wood used in the icons of the Virgin Mary centuries ago when Spain brought Christianity to the Philippines. This type of wood are used to make the skin complexion of the Virgin similar to Asian or a Filipina.
Jo Mari have also done Landscapes, Still Life and Abstract paintings.