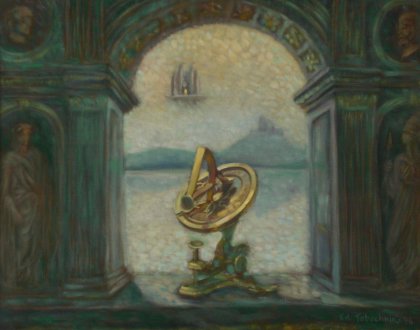 The Sundial.
New style:"Romantic Expressionism".
Series:"Hermitage Collection".

Oil on canvas. 76x60. 1996.

- 2000€ Disponible -

Peintres
Edward Tabachnik
Resume: Edward Tabachnik was born in Russia.
Educated from the St. Petersburg (Leningrad) Academy of Arts and Architecture,
one of most famous European School of Arts. It is a historic center of Russian Culture.
The Academy was founded by The Empress Katrine The Great 250 years ago and has been traditionally connected with the French "Ecole des Beaux Arts" in Paris.
Edward Tabachnik schooling is both - in architecture and painting. The Academy was the alma mater of many famous Russian artists, including Mark Chagall's teacher - Yehuda Pen. Antakolsky, Repin, Serov, Surikov, Brulov, Vrubel, Roerich and many others.
Edward participated in many unofficial exhibitions in Moscow.
He has developed a new style, which he calls "Romantic Expressionism".
Fascination with The Black Hole Theory of The Origin of The World is also reflected in many of his paintings in the form of "Singularity", through which Time passes, connecting The Past with The Future.
Honorary Member of The "Order of Alexander The Great"- an international organization which honours life-long cultural accomplishments. Among its Honorary Members were Salvador Dali, Henry Moore, Fernand Mourlot, Jean Cocteau, Herbert von Karajan, Leonard Bernstein, Jean-Jacques Annaud and others.
Exhibitions: 1965 - 1972, Russia, Moscow - Number of unofficial exhibitions. Solo and group Exhibitions in Moscow Association of Architects. Private exhibitions. Participation in the National Art Exhibition in Russian Museum in Leningrad (Graphicks).
1972-1974, Israel. Personal exhibition in Ashkelon. Exhibitions in Tel Aviv.
1975-Exhibition at The Johnson Public Library, New Jersey, USA. Graphics.
1976-1981, Many solo, group exhibitions at the Gallery Heritage, Toronto.
1996-Solo exhibition with Gallery Hittite, Toronto. 15 paintings.
2000-Art without Walls, Exhibition in Polish Consulate, New York City. 6 paintings.
2000-Jubilee Exhibition in Newman Center, University of Torornto.
2002-Solo Exhibit. "Dreams and Memories" at JCC Atrium Gallery, NJ. 16 paintings.
2002-Solo Exhibit. "Past, Present and Future" at JCC Waltuch Gallery, NJ. 24 paintings.
2002-Exhibit."Old Musical Instruments" in Lincoln Center of Performing Arts, NYC.
2002-2003- Exhibition "Salon d'Automne International des Beaux-Arts de Montreal".
2005 - Exhibition "Art For Nature" , Museum Leeuwenberg, Utrecht, Netherlands
2005 - "The Togo Salmon Centenary Exhibition. The Classical World and Its Influence" in The McMaster Museum of Art, Hamilton, Ontario, Canada. 4 paintings.
2006- Exhibition "Earth Day 2006", Ouwehands, Rhenen, Netherlands.
2006- Exhibition "Building Cultural Bridges: Art from the former Soviet Union to America", Mizel Museum, Denver, Colorado, USA. 4 paintings.
2007-Solo exhibition "Ancient Musical Instruments" and Mystery of The Past Romantic Expressionism in Oil Paintings by Edward Tabachnik" in Walt Whitman Birthplace Museum, Long Island, New York, 18 paintings.
2009- "Homage to Salvador Dali". Museum of European Art, Clarence, NY. 4paintings.
2010- "Valentine". Exhibition in Gallery Hittitie, Toronto, Ontario, Canada.
Publishing:
1975-Jennifer Oille. At the galleries: K.M. Graham. Edward Tabachnik at Gallery Scollard. The Centre for Contemporary Canadian Art. The Canadian Art Database.