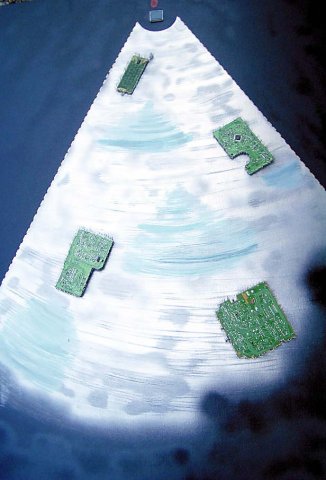 Electronic indigestion
mixed mediaon canvas cm 150 x 100 2006
Mixed Media
Abbagnara Marco Antonio
Marco Antonio Abbagnara was born in Catania, Sicily,
in 1966 but he also spent part of his youth in
Tuscany. These two regions, where art is the heritage
bequeathed by three thousand years of history, have
with no doubt provided him a solid basis for his
artistic mind since the very beginning of his life. He
started moving from one place to another pretty soon
and he once admitted that he is an "untiring
traveller".
As a matter of fact, the subjects of his works
represent the result of what emerges from his own
personal reflections and sensations constantly
inspired by every corner of the world which the artist
himself visits and explores. He lived in Australia for
two years where he met young talented artists like him
and where in 1990 he attended in Sidney an art-school
course (organized by the Local Institution for the
Promotion of Artistic Industry) which helped him to
improve his artistic knowledge and better his
technical skills. Successively, he lived in Thailand
for six months as well as in New York always breathing
his love for contemporary art, his biggest inspiration
as expression of freedom. After many important years
of training and experience on canvas he has finally
reached his artistic top form on black metal leaf by means of which the artist tells old legends, depicts images, expresses sensations of every kind and deep thoughts based on his personal experiences directly to the eyes of his spectators.
He lives and works in Varese in the north-west of Italy.