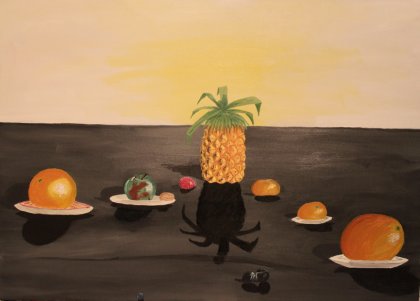 The fruits of our system
You may be asking is that I wanted to convey as a message? Or why the web is so empty?
I wanted to make a highly original work, so I paint the canvas representing our solar system. I thought the idea of reproducing the planets by fruits were perfec

oil on canvas 70x60 cm

- 400€ Available -

Painters
Diafano Luccosu
Diafano Luccosu, born July 21, 1986.
About 18h, a time when the worker, the artist becomes normal citizen, a citizen revolt braving the stairs toward his tiny corner shop or put up in his room. There, in his world, near the shelves where you store a few hundred boxes of Japanese anime and manga of all kinds, he sets up his easel, his other life begins. Sat in front of this vastness white thinking back to his busy day at the site; the worker stares at the blank white canvas and the artist then becomes one of the giant flying snow-white clouds above and as free as air.
Before entering the artist takes his breath like a musician who waits for the signal of the maestro and his pencil glides onto the canvas, that is where the melody begins the work:
An introduction rhythmic friction reveals grayish outline of the future work;
The first verse consists of the movement of brushes like a bow across the strings of a violin;
The chorus emphasizes the splashes of diluent for a brief rinse of the brush;
The second verse points out the attention to detail imitating the jazz drummer provided with different shapes and sizes of brushes;
One last chorus rips finalizes intensive cleaning of brushes;
And finally, the artist's signature.
The blank white canvas becomes a work of art.