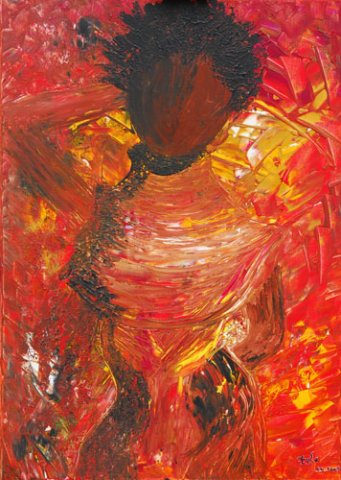 Femme africaine
acrylique sur toile
70x50



Painters
Annick Hendrycks
Self-educated artist, born in Paris in 1962, and curently residing in the Seine and Marne, painting is for me a passion.I am fascinated by Eastern philosophy and pœtry, i initiate myself recently with the Arab calligraphy which i integrate into my works.
Through my paintings, i hope to share my feelings and thoughts which are within me when i see a beautiful landscape, the smile of a child, a tended hand, a proof of human indness but also the suffering, humility, and distress that i come accross daily in my work.I finally espress my fear when seeing the indifference and fatality of our time, which so often generates violence and despair particulary within children and adolescents.
The artistic expression associated with the respect of others allows dialogue and can make barriers fall.
Let us give each child a paintbrush, colors paints, a little clay, music, love and respect and the world will be transformed by it.