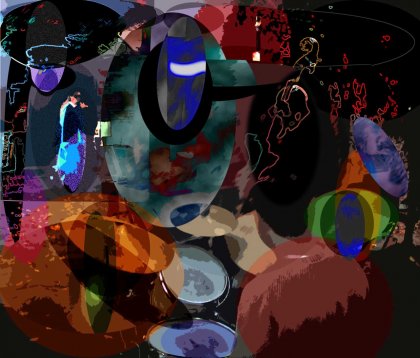 Caravan [Jazz in Los Angeles]
Mixed Media Photography

Limited edition of 12. Available from the collection of the artist. 30 inches x 30 inches. Price $1, 475.00 US Dollars.

Mixed Media
Melissa Ann Lambert
Los Angeles - United States
California
818 487 8028
info@melissaannlambert.com
Site web
My art, whether abstract, figurative, or combinations of both, explores visual, dimensional vibrations through the use of line, color, symbolism, and form. Geometry, superstring theory, parallel dimensions, mythology, the writings of Jœsph Campbell, and Jung's theories of the collective unconscious all inform my work.

I primarily do abstract work, though some works are both abstract and figurative. I explore the symbolic dream state through abstract forms. Many viewers "see" animals, people, and nature based scenes not intentionally painted in the work. I strive to reveal the deeper dimension(s) and innate spirituality that exist in the here and now of every 'ordinary' moment.

Due to the limitations of web technology, the true color, detail and quality of the work as viewed on this website are diminished. Contact the artist for higher quality images. In addition, please visit the artists website to see more images from Melissa's 4 series, "Self Portraits", "Jazz in L.A.", "Live in L.A.", and Traditional Media works (most works are not yet represented on the website, to be added as they are scanned).