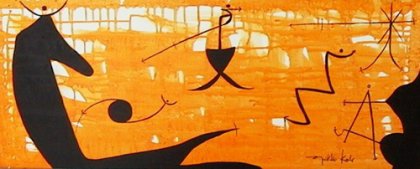 Le sourire des ailes flamboyantes
Mixed Media on canvas

100x40cm

Painters
Nikko Kali
95170 Deuil la Barre - France
Val-D'Oise
+33(0) 6 30 06 36 80
nikkokali@gmail.com
Web site
It's very elaborate and studied technique. I uses precious stones, fine, decorative stones and gold in the mixtures of its natural pigments. Extract also of the pigments of some fruits and plants by carrying out its alchemy of the colors in their giving to each one a special formula. Every color is unique as well as its funds.
It has in a manner apprit very natural, colors, form and lines forming a harmonious composition, constructed in the daily of his experience. I left his thought freely to float and it represented nonexistent or real things.
"The true inspiration appears any place, and not only in the walls of an academy". The places I visited, that keep a certain mystery, as India, where he lived for two years, influenced in the creation of his works.