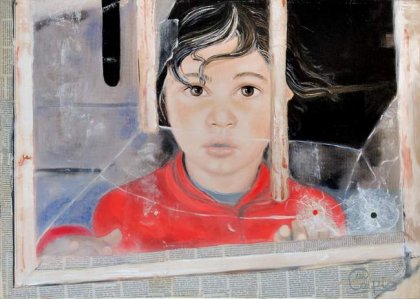 This evening, perhaps, someone will read a fable to me
The work has been exposed at the International Biennial Contemporary Art in Florence, December 2007

Oil and newspaper on canvas, 70X50, 2007

- 2.800€ Available -

Painters
Milena Crupi
She was born on May the 28th in Rossano (Italy) and the artist takes into her account many solo exhibitions and important contemporary art magazines. Her paintings are part of private collections and since many years she is leading a very personal search. Her artistic route made her well known to Italian public who appreciate topics of her paintings, which are always able to rise a tumult of sensations.
Milena Crupi distinguished herself in many solo exhibitions and her name, now, in the Italian artistic survey, is a sure synonym of picturic search and studio. We must go to five years back when her artistic turning- point finds her looking for a way that would bring her from love for post-impressionist and for American expressionism to her original works, ensued from an idea of a new cretive expression.The artist's innovatign suorce manifests itself, as the art critic Fortunato Orazio Signorello pointed out "in the active instinct of the cretiveness and in being able to hasten efficacious inter-action between expressive languages renewal and a care taken for questions inquiring into social point of view, meanwhile in the West world there is a deep crisis of values".
Some of the painter's works are permanently exhibited at Racalmuto's Museum (Italy) and her exhibits have been awarded the sponsorship of many public bodies which the region of Calabria, Sicily Region, the French Ministry of Culture, the Italian Ministry of Justice and the Council of Europe.