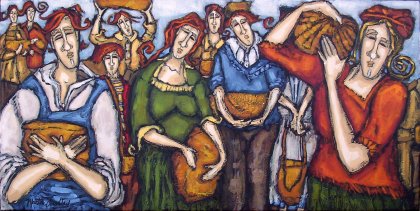 Carriers of good news
Acrylic and oil
15 X 30 inches



- Sold -

Painters
Martine Tremblay
133 rue Baron
G7G 1C3 Chicoutimi - Canada
Québec
418-696-1018
etoile59@hotmail.com
Web site
As a self-taught painter, she experiments with different techniques, including charcoal, red chalk, acrylic, gouache, ink, sculpture, but nothing attracts her more than the marriage between oil and pigments. Instinctively, she knows how to draw the best out of the material she uses, freely integrating mixed techniques in her art or even go beyond established rules to move forward in her process.

Her figurative style has nothing of a portrait. With her paintings, she wants to materialize the characters who inspire her and express what she values most : emotion, feelings, well being, or even a deep impression left by some readings. Her art, like music, breaks up and stops time. Intuitive, sensitive and strong at the same time, she cuts and refines her work. With warm and temperate colours, she freely and simply expresses her reflexion.

The artist likes to provoke without overwhelming. The intensity of the look she gives to all things is found in that of the characters she paints. The demonstration of her innermost self, displayed on the canvas, obliges her to overcome her natural decency. She sometimes happens to witness a contact between the observer and her work as well as an intimate comprehension of others. Magic then occurs and soliloquy is transformed into a close dialogue.

Creating, always moving forward in expression, building a work and imposing a process are some of the desires that form her dreams as an artist. Completely dedicated to her paintings, she wishes to have the daring necessary to satisfy these needs. Composing on canvas is, for her, an art of living.