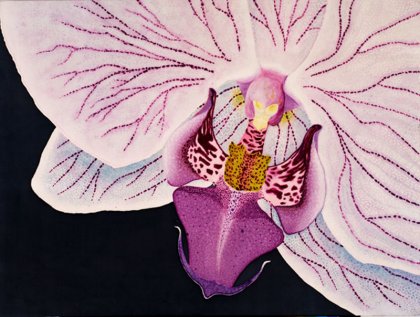 Ciber orchid 002 - Lu TORRALBA
INSIDE ORCHIDS COLLECTION
Hand-painted silk
using water and light resistant vapor-fixed organic dyes
Size: 81x 61 cm



Painters
Lu Torralba
Sant Joaquim, 23
08012 BARCELONE - Spain
Katalonia
(0034) 93 217 48 66
lutorralba@multi-art.org
Web site
Here today, there tomorrow, Lu Torralba was born in Offenbach in 1960. Since then, and as she comments, her life has been and is a course of changes: she's never done the same thing and has gone on to do – whichever way the wind blew – the inevitable.
Her work is the fruit of having traveled the world wanting to impregnate herself with everything she sees; traveling around Asia she learned from the master craftsmen who today she remembers with gratitude and admiration, she sells her works in different European markets and in Catalonia, she develops her creativity in schools, publishing companies and other diverse fields.
In Barcelona she founded the multiArt textile art center where she presently teaches printing classes, organizes essential painting sessions and dedicates her time to other activities related to the textile world. Today she's here and –as she likes to say- thanks to teaching and sharing she learns a lot more.