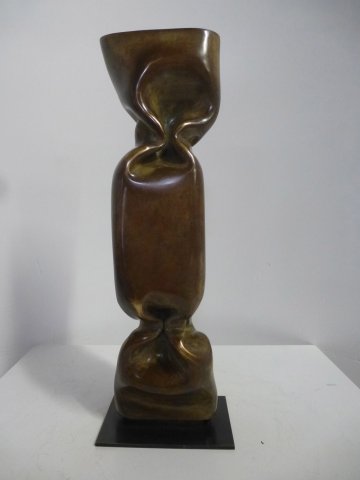 Bronze candy chocolate patine
Bonze
40 cm
Edition 8 + 4 A.P.
Jenkell
2013

Bonze 40 cm Edition 8 + 4 A.P. Jenkell 2013

- Available -

Sculptors
Laurence Jenkell
Laurence Jenkell declined the Candy under all its forms: paintings, inclusions and sculptures. This simple object of desire became her subject of preference.
The control of her artworks will bring the artist to use materials like Plexiglas, polyester, aluminum, bronze and marble but also to express herself by the fragmentation. More than a medium, the candy interpreted by Laurence Jenkell became a "language".
A speech specialist would say that her candy sculpture is a radical gesture stemming from the semantic contents of Pop art and from New Realism. A profane speech would speak about an artistic greed that delights our senses and evokes sweetness by glorifying all subjects carried by these candies.
In 2011 Laurence Jenkell as official partner of the G20 in Cannes invented a concept of itinerant exhibitions of hier huge Candies in the colors of Flags.
In 2012 she had a show of her huge candies' sculptures with Gabarron Foundation in Valencia (Spain), also at the Fine arts Museum in Calais as part of the show she had in the city of Calais during the London Olympics and at the same time also in London in the Olympic Village.
She participates in numerous exhibitions and international art fairs (Germany, Belgium, South Korea, United Arab Emirates, Spain, France, Hong-Kong, United, Swiss Kingdom, Turkey) and her works are present in private collections worldwide.
Laurence Jenkell's artistic works join in a thought and cultural process: the subject of the Candy allying simplicity and universality, and through candies flags an interrogation on the question of the identity of a nation. Today a new technique with transparent candies hand-painted by the artist, all unique pieces and a reflection on the energy of the color, the fade out of paintings and the magic of transparencies on Plexiglas.