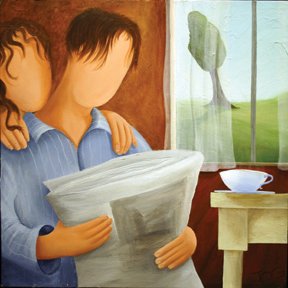 Good Morning Love!
Acrylic 24"x24"
Painters
Josée Jog Gauthier
683, de la Sablière
J6Z 4T2 Bois-des-Filion - Canada
Québec
514-703-0136
info@joseegauthier.com
Web site
Self-educated artist, Josée tried various médiums, then adopts finally the acrylic medium which lends itself better to her technique. The textured funds add richness to her art.

During two last years, Josée received nine awards for her works. We find her work in some public collections of which; the S.A.A.Q, the University of Quebec in Outaouais, Town of Rosemère, like several private collections in Quebec and the United States.

Last september she took part in her first Internationnale exposure. She was invited to take part, with a group of twenty artists from Quebec, to an exhibition in the Berre-the-Alps, in France, in order to represent the colors of Quebec under the topic: "The four seasons"

In 2007, she will participate to 2 exhibitions in Longlaville, FRANCE and at the Salon d'art Contenporain in BELGIQUE.