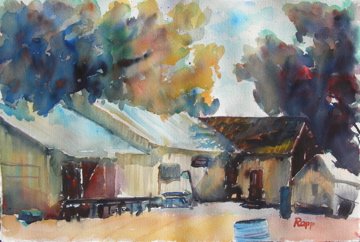 ABOVE SONORA
This painting was done fast and losely. For a while I thought I had lost it but I think in the end it came out pretty good and won 2nd award at the prestigious 2007 Juried Spring Show in California.

Watercolor on Arches paper, 55x76 cm

Painters
Jan Rapp
I started painting when I was 57. A year later Deni and I were married and I moved from Stockholm to Modesto in California. The timing was perfect to start doing something new.
My paintings are surely the most truthful judge of where I am in my process and development as an artist. They will also tell you what kind of motifs that evokes my attention. Jackson Pollock said that "every good painter paints what he is". So this is what I am! At least for right now!
I would be glad to receive your feedback after your visit to my gallery. Thanks!

Art education
College 4 år 1998-002, studying art with prof. Petersen, Reilley and Serros.
After that I have attended workshops with several internationally known artists, but I would say that to a rather high degree, I am an autodidact, where trial and error has been my guide and teacher.