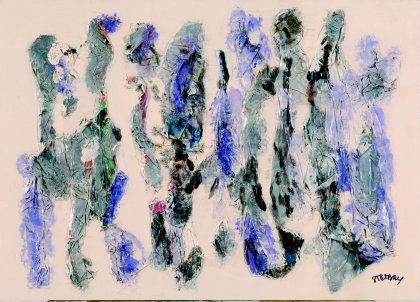 IRIS
MIXED TECHNIQUE



Painters
Gloria Stetbay
ATELIER GALERIE
6 RUE MOLIERE
30000 NIMES - France
Gard
04 90 70 50 51
contact@stetbay.com
Web site
Gloria STETBAY

Born in Provence.

Education :
School of Fine Arts of Avignon and Ecole National Supérieure des Beaux-arts de Paris.
Artistic techniques :
Ink, pastel, acrylic, oil, mixed techniques.
Figurative period 1966 – 1995 :
Copies of the masters, portraits, sporting themes, sumo, judo.
Abstract period :
Since 1995 during which she favours mixed techniques on wood panels.
Main exhibitions :
Cannes, Neuilly, Ile saint louis, Paris, Bruges.
Galerie Palais Royal, Paris, Galerie Mouvances, Place des Vosges, Paris.
A book :
Entitled Stetbay – Matière, contains a collection of her abstract works published in 2005 by
T & A Editions.

To « build » her paintings, Stetbay uses canvas and wood, then she covers the surface, kneads the material and sculpts it. In her works, the material becomes the flesh, the painting the skin. She aims at endowing her paintings with an emotional quality, a rhythm, space, shape and light are born of crumpled material, relief in material and colour.

She forces herself to give her canvases the maximum in expressive intensity, to communicate feelings. A search for forms, reliefs, that arouse the desire to touch, to caress, to explore the overlapping, floating forms, the waves that are present within the paintings.

In her works, Stetbay integrates rhythm, she inscribes melodic lines that are united with colour, playing on matte or brilliant surfaces, on rough patches, sharp areas or rounded areas that evoke a physical implication, a desire to share.