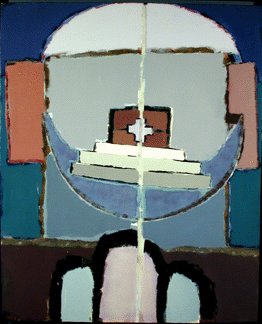 The Transept and the Altar
The altar is set on the top of a three-stairs flight representing the three levels of creation : the tangible, the subtle and the spiritual levels. The Eucharistic Consecration's Mystery establishes the coronation and completion of creation.

peinture à l'huile sur toile 100x81cm.

Painters
Gilles Alfera
Gilles ALFERA is a contemporary French painter, nurtured on Christian spirituality and culture. With his work, i.e., paintings , etchings and artist books , he means to underline that traditional symbolism , as the language of any sacred or religious art, can still be the key note to creative intuition , while keeping away from pseudo-esoteric allegories inherent to the so-called "new age" mystical hermetism.