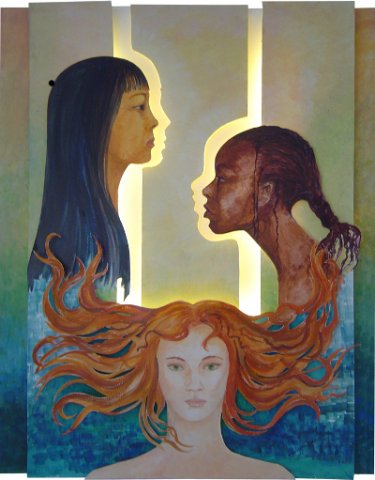 Mankind
- 700€ Available -
Mixed Media
Francoise Boussau-Janon
My work is based on an easy observation: when it comes to building, nature and man do not use the same handbook. Nature produces and proposes, without any obvious rule; only the most solid, the most adequate remains. Man obeys laws he himself decided, for they promise a useful and perennial function.

Then it is very easy to tell whether an object is the product of nature or of man. The former is unexpected, tortuous, quirky, all curves and colors. The latter is predictable, straight, squared, ordered.

I explore this stylistic opposition by using paintbrushes and pencils to portray nature's exuberance, and great cardboards to represent man-imposed order. These great cardboards canalize shadows and lights, that sometimes come from within the frame.

This aesthetic dialogue permits exploring the relationship between man and nature. Although he depends on nature, for food and inspiration, man tries to master and order life, and meanwhile alters, pollutes, and denatures it. Life reacts, adapts, seeps through buildings like light between cardboards.

Man has this particular status shared with characters out of the frame in some paintings: fully part of the work, spectator of the course of events, and still an actor of the world. These little dropouts are much alike the visitor walking in front of the paintings.