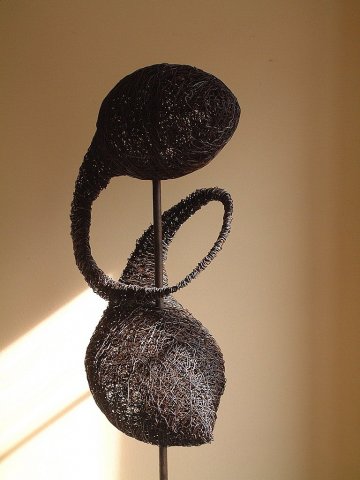 Elegance
Metal art sculptures

Abstract iron wire sculpture 250 cm

- 2575€ Available -

Sculptors
David Vanorbeek
11230 Sainte Colombe sur l'hers - France
Aude
0033(0)468693458
dvanorbeek@aol.com
Web site
Deev vanorbeek lives in a world populated with disproportionate insects. He presents a magnified reality that imposes respect. His esthetic intervention comes close to calligraphy with the purest forms and the most vibrating volumes. By twisting iron wire, he displays his spiders, ants and other insects through a magnifying glass.
Each of his creations takes life with force and makes the observer compromise between creation and recreation, life and death, fear and humor.
Today, Deev is moving towards more abstract art. He invites you to discover his work live in his atelier or on his website.