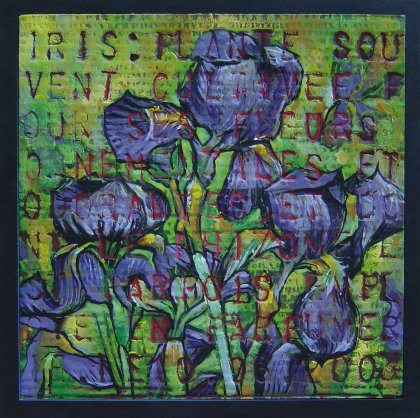 Iris
Acrylic on tauted card board

30x30cm

Painters
Christian Boillon
17 rue du neyrard
69110 Sainte-Foy-Les-Lyon - France
Rhône
06.83.11.86.46
acboillon@free.fr
Web site
I am a French artist and have been a registered
member of the Maison des Artistes since 1984. My work consists in achieving
painted walls and pictures on demand, and that ensures a living for me. Besides,
I have always painted for myself without necessarily being obliged to sell or
the exhibit these personal works, but also maybe by timeless ? The
series of works I send you as attached documents is part of my last paintings
and of my present way of expression, which I find sufficiently mature to
present.

These paintings are made of card boards tauted on a
frame and based on patterns of figures or letters pressed to create a gap ; I
use metal marks which I press to engrave the board. Then, I cover the board with
several coats of painting ; the frames of figures been used more as a way to
play with the colours (subjectivity) whereas the frames of letters are used with
a representation (figurative). These paintings tend to provide a game between
the background and the shape. The representative paintings are based on an
engraved text related to the shape and which will come out later when the coats
of painting are superimposed (for example, the American flag with part of a text
from the American Constitution, the orrises with the definition of the word
"orris" from the dictionary, or the Portrait of Picasso with a text
presenting Pablo Picasso - Malaga 1881. Mougins 1973…
The paintings with figures become real pages of ancient writings which sometimes
fade under the coats of paintings to become like "hieroglyphics
pads".