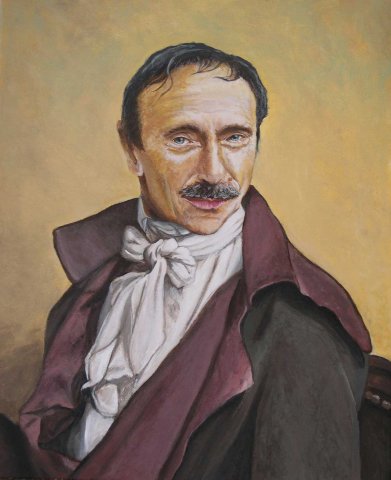 portrait of Ancestor
Réalisé à partir d'une simple photographie, personne ne pourra contester votre lien de parenté avec l'ancêtre illustre de la famille dont le portrait décorera à merveille le dessus de votre cheminée !

acrylic on strengthened canvas, 50 x 60 cm

- Sold -

Painters
Arnaud Griselin
strictly speaking do not have artistic formation and see me much as an autodidact. I started to paint really regularly only since 2004.

My painting is primarily figurative and decorative. It invites the spectator with the journey, the daydream, poetry and expatriation, by the visit of big spaces resulting from imaginary worlds bathed of Adventure, Fantasy and Science fiction.

The majority of my paintings, from their sizes, encourage the spectator to rove in the world which they describe by not limiting his point of view by a framework. It is very important for me not to partition my spaces, thus giving me a great freedom which I hope to also transmit in my painting.

I hope that you will have as much pleasure to look at my paintings than I had of it to paint them.