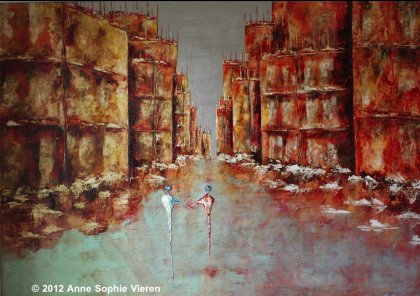 Crossing
Sur châssis - Bord peint - Prêt à être accroché - Vernis
Pièce unique avec certificat d'authenticité
Huile, 80x100
En vente - Disponible à l'atelier

Anne sophie Vieren
Médaille du Conseil Charente Maritime 2015
Expositions 2015



- Sold -

Painters
Anne Sophie Vieren
44 Carquefou - Nantes - France
Loire-Atlantique
0680479965
contact@annesophievieren.com
Web site
I develop a pictorial work on the representation of humanity.
By a freestyle, I depart the pattern to reveal the invisible behind scenery, characters.

It is up to each individual to find his own interpretation.

Attention is drawn to a tangled and colorful graphics that gives each canvas a movement, a depth.
In order to create a semi-fantastic atmosphere.