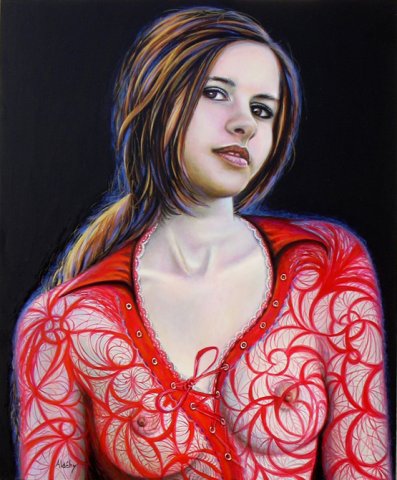 Soleils Levants.
Aldehy - peinture

http://www.artabus.com/english/aldehy/soleilslevants



- Available -

Painters
Aldehy
8 allée du parc
71200 Le Creusot - France
Saône-Et-Loire
03 85 80 82 03
aldehy@aol.com
Web site
Aldéhy
Avant tout figuratif, Aldéhy est un apôtre de la lumière qui nous gratifie d'un clin d'œil à Philippe de Champaigne.
Les thèmes sont nombreux et éclectiques, cependant, cette apparente diversité demeure complémentaire.
Le dessin est bien construit et visiblement rien n'est laissé au hasard. Nous découvrons une exceptionnelle série de portraits : "les cathédrales de lumières"-quatorze instants de la journée d'un enfant, avec une acuité particulière, l'artiste saisit le moment éphémère de la vie.
Avec une technique affirmée, l'artiste nous délivre un éclairage artificiel, parfois violent qui arrête les mouvements, l'intimité est captée dans toute son intensité, traduisant une émotion ou un sourire.
En plongeant une partie du tableau dans l'opposition clair-obscur Aldéhy sait valoriser l'expression. Maître es-lumière d'une peinture rayonnante, par la délicatesse de la touche, les jeux subtils et les reflets, l'artiste révèle l'illusion dans l'espace prospectif.
De ses rencontres avec les motifs favoris, le peintre nous offre autant d'images marquées au sceau d'un réalisme certes poétisé, mais perçu à travers un regard objectif.
Si l'enthousiasme n'apparaît pas toujours dans les compositions, c'est qu'à l'émotion première succède la réflexion à long terme, une interrogation sur le sujet, dont il entend restituer la vérité au point de s'attarder à cerner d'une touche millimétrée les contours d'un visage familier.
Un dessin précis épaule avec autorité la force narrative. Avec une palette étendue et une application rigoureuse rien n'échappe à la finesse d'observation. Le plus souvent l'artiste utilise l'acrylique, mais parfois fait appel à l'huile et au crayon… Singulièrement, l'artiste ne se laisse pas enfermer dans un unique modèle d'expression, pour s'en convaincre il suffit de revenir aux travaux abstraits des années 80.
Privilégiant ses émotions aux effets de modes, Aldéhy reste avant tout un homme libre… Peinture rayonnante, teintée d'humour et de tendresse elle retentit aux accents d'une sensibilité contenue.

Atypique,
issue d'une habilite technique remarquable, l'œuvre d'Aldéhy ne devrait pas tarder à attirer l'attention de collectionneurs qui pourront cumuler plaisir des yeux et valeur ascendante.

J.Saint-Aubin

Aldéhy

Born on 30 January 1956 in Châtellerault - France.
Workshop : 8, Allée du Parc 71200 - Le Creusot - France -
Web gallery : http://www.artabus.com/aldehy
E-mail : aldehy@aol.com

First of all figurative, Aldéhy is an advocate of light that winks at Philippe de Champaigne.
Subjects are numerous and eclectic but this obvious diversity is complementary. The drawing is well built and detailed.
We discover an exceptional set of portraits " Cathedrals of Lights" fourteen moments of a child's day. With particular acuity, the artist captures the fleeting time of life.
With an asserted technique, the artist delivers an artificial lighting, sometimes violent that stops motions. The intimacy is captured in full intensity, translating an emotion or a smile.
Aldéhy knows how to give value to the expression, by plunging a part of the canvas into a light/dark contrast.
Master of lights with a bright painting, with delicacy in the tinge, subtle games of reflection, the artist reveals the illusion in the prospective space.
From his meetings with his favourite patterns, the painter offers us as many images distinguished by a seal of a soften realism but through an objective look.
If the enthusiasm dœs not always appear in the compositions, this is the first emotion that succeeds to the long term thought, an interrogation on the subject, that he wants to restore the truth until lingering to define a graduated tinge of outlines of a well-known face.
An accurate drawing raised with authority, the narrative force.
With a huge palette and a rigorous application nothing gets away from the shrewd observation.
Most of the time the artist uses acrylic but sometimes gets oil and pencil …
Strangely, the artist is not locked up in a unique design of expression, to be convinced you just have to come back to his abstract work in the eighties.
Privileging his emotions to the fashion effects, Aldéhy is a free man.
Bright painting, tinted with humour and tenderness, rings out restrained sensitiveness accent.

Atypical,
with a brilliant technique skill, the work of Aldéhy should attract collectors' attention without delay, that could hold the eyes' pleasure and rising value.
J.Saint Aubin.

====================================

Aldéhy -

2006 : Valued by "Cambridge Expertise Ltd". (EBP).
http://www.cambridgeexpertise.com/Index.htm

Quotation Memo
The value on 07.12.2005 without VAT and without frame is estimated at :

149 Euros le point.