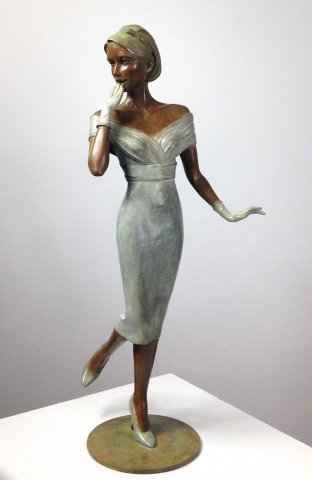 Amandine
Original bronze, polychrome patina
H57 x W23 x D20 cm
Published in 8 copies + 4 Artist Proofs
Year of creation: 2017
Foundry: Paumelle (France)



- Available -

Sculptors
Alain Choisnet
06250 Mougins, Côte d'Azur - France
Alpes Maritimes
06 68 34 96 10
expo.sculpture@gmail.com
Web site
Never more than sensual although of an brimming femininity, his "women" deliver us a soothing message which makes a lot of good.
" It is enough to seize a gesture, an emotion, then to set them while preserving the sincerity of moment and the fluidity of the movement ". If this concept seems simple to him, Alain mastery doubtless.
We are seduced as much by the quality and the delicacy of its sculptures as by the serenity which they pass on. Its representation of the feminine nude is delicate and expressive while remaining contemporary.
Its galleries located in Mougins and Saint-Paul de Vence welcome you every day from May to September to present you latest creations.